Building a Coaching Culture with Managers and Leaders is a signature piece of research conducted in partnership between ICF and the Human Capital Institute (HCI) in order to examine the ways in which companies and leaders establish and support a coaching culture, with a focus on training for managers/leaders using coaching skills.
A coach approach differs from a traditional, authoritative management style where direct reports are simply delegated tasks, and may include exploring, asking questions, facilitation and partnering. Often, managers need to "role-switch" between a coach-approach and more traditional management techniques. Managers/leaders using coaching skills need training and ongoing development opportunities to learn how to balance these roles and gain competence and con dence in using coaching skills.
What are the components of a strong coaching culture?

Employees value coaching.
Senior executives value coaching.
Managers/leaders and/or internal coach practitioners spend an above- average amount of their weekly time on coaching activities
Managers/leaders and/or internal coaches receive accredited coach-specific training.
Coaching is a fixture in the organization with a dedicated line item in the budget.
All employees in the organization have an equal opportunity to receive coaching from a professional coach practitioner.
What are the most important indicators of coaching impact?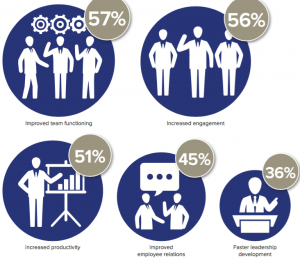 Why do managers/leaders use coaching skills?
To enhance performance
To enhance professional growth
To build trust To enhance productivity
To improve employee engagement
To enhance teamwork
To enhance communication
To enhance personal growth
To increase others' self- con dence
To help team members identify blind spots
To improve job satisfaction
To facilitate transfer of training to the job
The final report is available for free to ICF Members, and can be purchased by non-Members for $45 USD. Get it here.
This study is the third in ICF and HCI's research series on coaching in organizations; it's also the largest, in terms of sample size (n = 879) and most geographically diverse (37% of respondents from outside of North America)